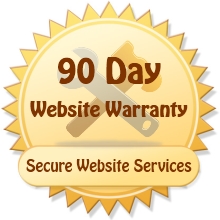 After placing your website online, it's covered by our 90 day software warranty!
Our warranty ensures that your software will meet its functionality specifications. This warranty covers for any programming, CSS or MySQL errors reported to Secure Website Services within 90 days after placing your website online.
Any of the errors mentioned above that are reported within the 90 day period will be corrected at no additional charge!
 
 
Additional Warranty Information
Website Warranty is limited to the core functionalities and features of the website that have been programmed by exclusively by Secure Website Services and not programmed by a 3rd party. Any issue caused due to web hosting or server limitations or changes is not covered in the warranty. Any bugs related to 3rd party hosting, 3rd party database integration, 3rd party software or 3rd party plug-ins are not covered under the 90 day warranty. The right to warranty is forfeited if the website or the codes are accessed or modified by anyone other than Secure Website Services. The Warranty will not be honoured if any of the payments are over-due.